Instant builds so you can release 20x faster

and keep

Eng

ineers in

Flow
Remote Work
Make working remotely more efficient by offloading builds from your local machine to a cluster of machines with
Remote Execution
– either on-prem or in the cloud.
Save
Reduce overall cost by decreasing hardware spend, development time and infrastructure maintenance, as well as enabling engineers to share build caches and computing power.
Team Productivity
Increase your team's productivity and collaboration by speeding up build times by a factor of 10 or more, be it for local development or your continuous integration.
Universal Platform Support
Flexible deployment options
Our fully managed solution runs in the cloud at a provider of your choice. You can alternatively purchase a license and self-host our remote execution offering on-prem. Of course, you can also run the software in the cloud when purchasing a license and self-hosting.
Operating Systems
Our software runs on various platforms to cover your development needs.
Build Systems
We reliably operate our product with numerous systems. We also support all clients that implement the open-source Remote Execution API, such as BuildStream, Pants, and Recc, and are integrating with other build systems.
Continuous Integrations
Our service works with common CI systems out-of-the-box.
Greyed out logos indicate work on our 2021 roadmap.
Customers
EngFlow customers are companies passionate about optimizing developer productivity and retention, and range from startups to enterprises and Fortune 500 companies across the following industries:
E-Commerce
Financial Services
Autonomous Vehicles
Telecommunications
Using EngFlow product enables our team to release 20x faster, which is critical to provide exceptional service and stay competitive in telecom industry.
Major telecom company
We seamlessly migrated from
GCP RBE
to EngFlow Remote Execution with one line change. EngFlow reliably maintains SLA of 99.9% for its managed service.
Top e-commerce company
Achieved incremental builds, reducing total build time by 20-30 min to seconds per commit, without needing to manage and operate more infrastructure.
AI software company
5x build speed improvement in our Android Platform AOSP builds
Top automaker
Why EngFlow?
EngFlow is the only company created by core engineers who built and open-sourced Bazel at Google, and continue to actively contribute to the open source ecosystem.
Our team consists of industry's experts and thought leaders in developer productivity and build systems, who can optimize your build infrastructure and accelerate product releases.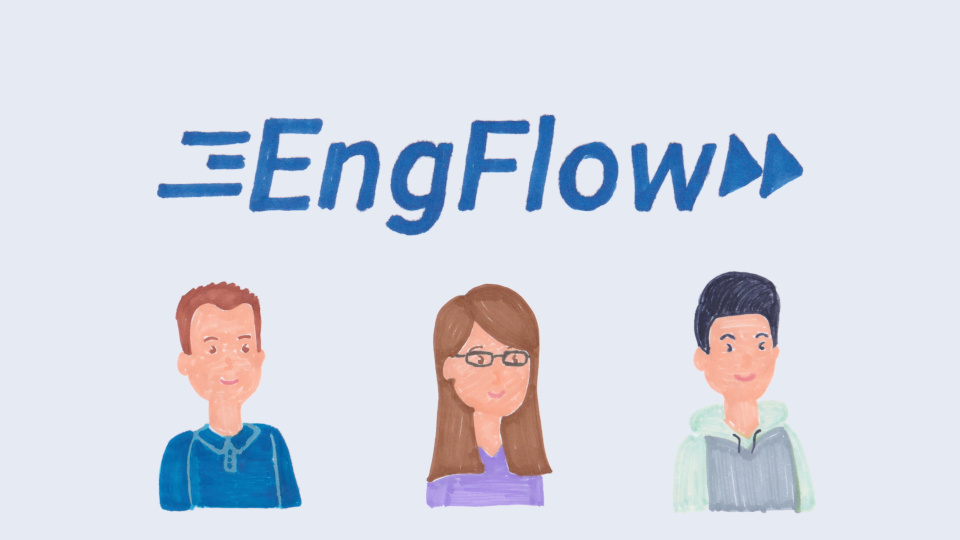 By accepting you will be accessing a service provided by a third party external to engflow.com.
Imagine you are pouring yourself a cup of your favorite tea and you keep getting interrupted.
This is what software developers have to deal with every single day.
A survey revealed: software developers wait 7.2 hours per week just for tests and builds to complete on their computer.
At an annual salary of 100,000 US dollars, that's 17,000 dollars wasted per engineer, or a loss of 1.7 million for a company with a hundred engineers. Worldwide, this adds up to a whopping $458 billion US dollars per year spent just on waiting.
Research shows that these wait times lead to slower product releases, unhappy engineers and ultimately less successful companies.
Here's our solution:
We at EngFlow – guided by Ulf, Helen and László – have over 20 years of combined experience working on build systems. With that deep insight, we developed a service that spreads out the work in the cloud to significantly reduce those wait times – and it gets faster the more engineers use it.
This does not just make software development faster and engineers happier, it also increases standardization, engineering mobility and transparency, and overall leads to better products.
EngFlow.com – delivering solutions that keep engineers in flow.
Customer Sign-up
Learn more about our enterprise-ready, production-grade
remote execution service
and how we can help you get started. We offer a fully managed service, or a license if you want to self-host.
Free Trial Cluster
See for yourself how you can optimize build times using our remote execution software: we have set up a free trial cluster to make it easy for you to try it out.
Partnerships
Let us know how you can help our customers with your expertise on topics such as migration, custom build rules and more.