Faster Builds with Remote Execution
Software developers typically build source code on their local machines. Our remote execution service distributes such builds across a cluster of machines and remotely caches the results. This can speed up builds by a factor of ten and more.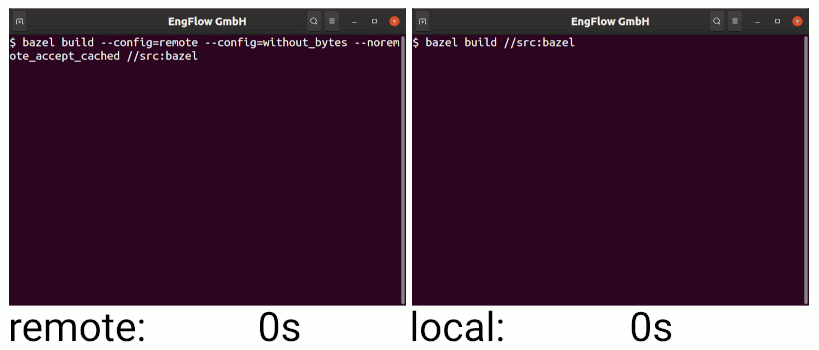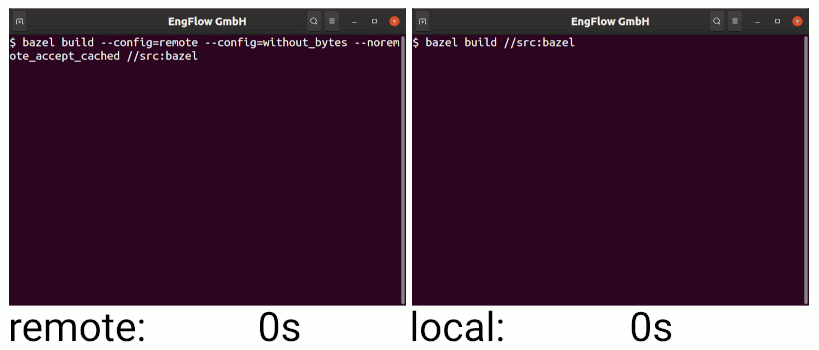 The animation shows an example run: our service builds Bazel from scratch in 2 minutes and 23 seconds, about 15 minutes faster than a local build on a quad-core machine.
We support all clients that implement the open-source Remote Execution API, including Bazel, BuildStream, Goma Server, Pants, and Recc.
To try out our service, you can access our our trial cluster. Alternatively, use our customer signup form if you would like to test our software on an individual cluster or on-prem.
You can use our managed remote execution service or self-manage and license our product with support. We offer deployments on-prem or in the cloud (such as GCP and AWS), other deployments on request.
EngFlow's Differentiators
Our remote execution service is enterprise-ready and production-grade:
Platforms
We offer both a fully managed solution on GCP, AWS, MacStadium and your private cloud, and a self-hosted solution that can run either in the cloud or on-prem. Our remote execution service runs on
GCP
,
AWS
, and
Kubernetes
.
GCP customers can also purchase our remote execution solution through GCP Marketplace.
Remote caching
Our remote execution service leverages remote caching to speed up builds. In principle, if configuring it to use zero remote workers, our product delivers pure remote caching.
SLAs
We provide an availability service-level agreement of 99.9% for the managed version, and have reliable customer support and flexible coverage options if you are self-hosting.
Sandboxing
In the managed service, all actions run in a Docker container. Clients can configure the Docker image to match their needs.
Hermetic builds
Builds completed with our remote execution service are hermetic. This means you can easily reproduce results, for example a specific version you deployed.
Autoscaling
Scalability
Our remote execution software scales on the number of machines, as well as on the number of concurrently executed actions with a fully distributed scheduler frontend. It has been successfully run with up to 1000 executors, each of which has a configurable number of available CPU cores, memory, and other resources.
Remote Persistent workers
Our software supports
persistent workers
. When possible, compilers are not shut down after completing a task, but continue running to handle the next action. This can speed up builds significantly by saving time required for launching the compiler, avoiding re-parsing of input files and similar jobs. In particular, we support persistent workers for Android, Java and Scala. See the
documentation
for how to enable this feature.
Documentation
Our detailed, user-friendly documentation includes a comprehensive description of the system's design, step-by-step instructions for deployment, a command-line interface reference, as well as best practices. It is available on
docs.engflow.com
.
Trusted Experts
EngFlow is your product partner and expert advisor in optimizing developer productivity. We set the bar high for engineering talent and product quality. Building scalable, reliable infrastructure is hard. Our engineering team, led by co-founder
Ulf Adams
, is uniquely equipped for this task. Ulf is a build systems industry thought leader and spent over 10 years perfecting his skills while creating and open-sourcing
Bazel
, as well as managing its internal equivalent at Google. EngFlow is the only company created by engineers who built Bazel, which is reflected in the unmatched standard of EngFlow's remote execution solution.
Customer Sign-up
Learn more about our enterprise-ready, production-grade remote execution service and how we can help you get started. We offer a fully managed solution, or a license if you want to self-host.
Free Trial Cluster
See for yourself how you can optimize build times using our remote execution software: we have set up a free trial cluster to make it easy for you to try it out.